More info
The best system of paella grill or paella gas burner ring is perfect for cooking paella.
Paella gas burners are used like fire diffusers, so that the fire can be regulated under the paella pan, frying pan or any cooking pan.
The heat is easy to control and makes cooking safe and clean. Don't forget: you can use your ring for cooking things other than Paella, like BBQ with our griddles
It has three concentric rings of flame, and three knobs that independently control each ring, so you can adjust the heat where and when it is needed. The outer ring is 70 cm (28 inches), the middle ring is 50 cm (20 inches) and the inner ring is 30 cm (12 inches). Inner ring features three inner spokes which ensure the heat is evenly distributed over the base of the pan. You can use the inner ring or the middle ring by itself. 
Pans you can use: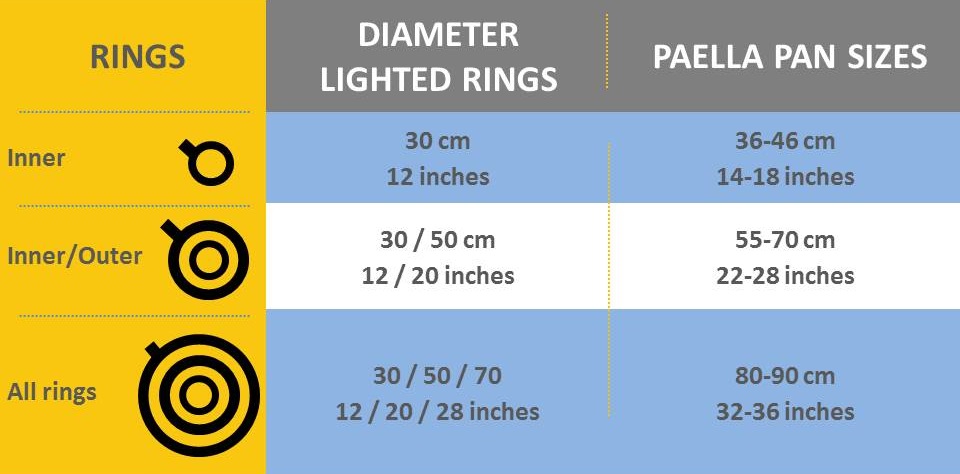 Its enamelled layer allows you to clean it easily. For more information on care and cleaning please see the "Care Instruction" tab.
To use our paella gas burner comfortably and safely, you can use our reinforced stand.
Runs on NATURAL GAS BUTANE/ PROPANE (When ordering, please specify the country of destination and the type of gas)
Special connections for every country (UK, USA, France, Australia, etc.) are available or we can manufacture your paella gas burner.
6 other products in the same category: