Enamelled Steel Paella Pan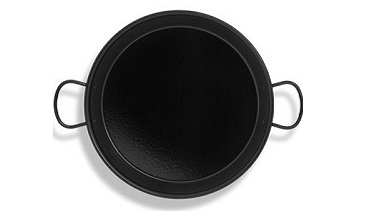 Enamelled steel paella pans.

Easy to clean and durable

Suitable for Gas, open fire and oven.

Made in Valencia (Spain)



Probably the second most famous type of paella pan and currently the best-selling paella pan, the enameled steel paella pan or enameled paella pan has a black enamel, sometimes speckled with white dots, which gives the paella pan protection and prevents oxidation.
Thanks to its enamel, it eliminates the need for maintenance after use, which makes it easy to clean and store.
During cleaning, it is recommended to use the soft part of the scouring pad, because if your enamel is scratched, it will lose its antioxidant qualities.
The enameled paella pan has a surface that is slightly convex as well as sloping sides, which allows the oil to collect in the center, helping during the preliminary stages of paella preparation, and allowing the sofrito to be moved to the sides for when we add rice.
We should point out that the enamelled paella can make a socarrat just like the polished paella and that everything said contrary to this is a false myth. This is because the socarrat comes from the caramelization of the rice starch sugar and this phenomenon (technically called Maillard) occurs at relatively low temperatures and much lower than those reached by our paellas, which means that all paella is capable of to do it.
If you are not sure which kind of paella would be the most suitable for you, you can watch our comparison video here.
If you doubt what would be the right size for your paella pan, we provide you with a table with all the measurements and their possible portions on our blog.
Read more