Special thickness paella pan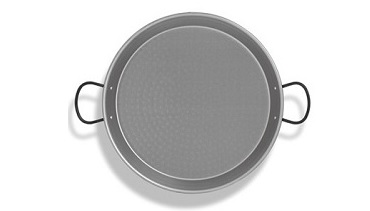 Paella pan for professional use
Special thickness paella pan

Highly resistant to warping

Suitable for Gas an Open Fire

Made in Valencia (Spain)


The special thickness paella, also referred to as black leg or professional paella pan, has the same qualities as the polished steel paella pan, but is characterized by having a thicker sheet metal that makes it more resistant to fire and deformation, guaranteeing its durability during intensive and continuous use or with more powerful heat sources such as cooking with orange or vine shoots
It can suffer from oxidation if it is not maintained after each use. To avoid this, you need to pour a layer of vegetable oil on its surface once it is clean and dry after cleaning.
The special thickness paella has a surface that is slightly convex and whose sides are inclined, which allows the oil to accumulate in the center, helping during the preliminary phases of the preparation of the paella, and allowing the sofrito to move to the sides. for when we add the rice.
If you are unsure which kind of paella would be right for you, you can watch our comparison video here.
If you want to know what would be the right size for your paella pan, we provide you with a table with all the measurements and their possible portions on our blog.
Carbon Steel requires a bit of care after each use to prevent rusting. See the "Care Instruction" tab.
Read more