Stainless Steel Paella Pan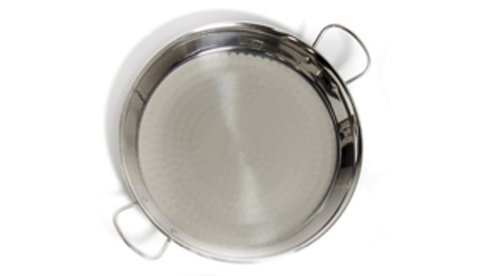 Paella pan made of Stainless steel 18/10

Sturdy and rigid paella pan

Mirror finish

Suitable for Gas, open fire and oven

Made in Valencia (Spain)



The stainless steel paella pan combines the advantages of the polished steel paella pan and the enameled paella pan without suffering any of their disadvantages.
It offers the polished finish of the traditional iron paella pan but with the antioxidant capabilities of the enameled steel paella pan. Thanks to this, it does not require any kind of maintenance and only requires cleaning with soap and water after each use.
In addition, its stainless steel finish, almost mirror like, makes it very bright and spectacular, it is the paella for those who want to display their paellas in the most elegant and showy way.
The stainless steel paella has a slightly convex surface and sloping sides, which allows the oil to accumulate in the center, helping the preparation of the paella during the preliminary phases, as well as allowing the sauce to be moved to the sides for when Let's add the rice.
Thanks to its qualities and characteristics, this paella pan is not only durable, but also a perfect gift or for display use when not in use.
If you are not sure which kind of paella would be the most suitable for you, you can watch our comparison video here.
If you doubt what would be the right size for your paella pan, we provide you with a table with all the measurements and their possible portions on our blog.
Read more