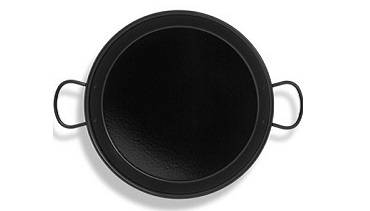 Special flat bottom to cook with induction

Easy to clean and resistant

Suitable for Gas, Induction, Vitroceramic Electric Hobs and Oven.

Made in Valencia (Spain)





Enamelled steel paella pan induction has a special flat bottom to cook with vitroceramic, induction and electric hobs. Induction paella pan can also be used with gas. 

The base is thicker than traditional paella pan to avoid warping and keep the paella hot.
Besides its special enameled cover allows for easy maintenance. See "Care instruction" tab

.
Tasting serving: 4 Main course: 2-3 Diameter: 30 cm Lower diameter : 25 cm Paella Pan suitable for Gas, Induction, Vitroceramic Electric Hobs and Oven        

12,95 €

disponible en 7 dias

Tasting serving: 6 Main course: 4 Diameter: 34 cm Lower Diameter : 29 cm Paella Pan Suitable for Gas, Induction, Vitroceramic,  Electric Hobs and Oven        

Tasting serving: 8 Main course: 5-6 Diameter: 38 cm Lower Diameter: 33 cm Paella Pan suitable for Gas, Induction, Vitroceramic, Electric Hobs and Oven