From ORIGINALPAELLA we do everything possible to make our shipments at the lowest possible cost of time and money. That is why we have made a selection of carriers as competitive as possible so that our application will choose the most competitive carrier over 10 international carriers selecting the company depending on the volumetric weight of the packages and the destination country. And remember all originalpaella products are Made in Spain.
Delivery Charges
Our rates and delivery time in Spain are: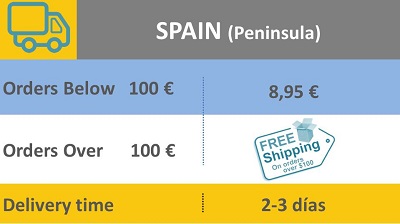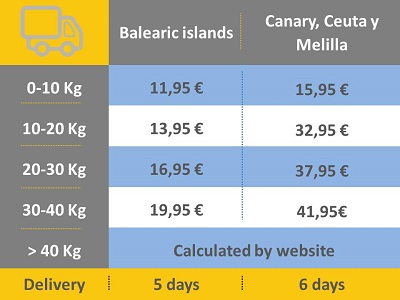 Our rates and delivery time in EUROPA and MARRUECOS: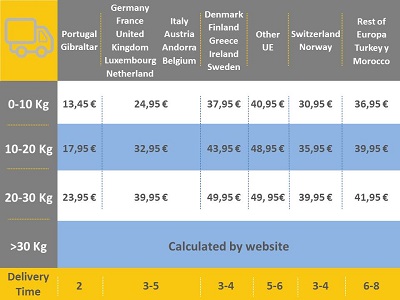 Our rates for other countries are: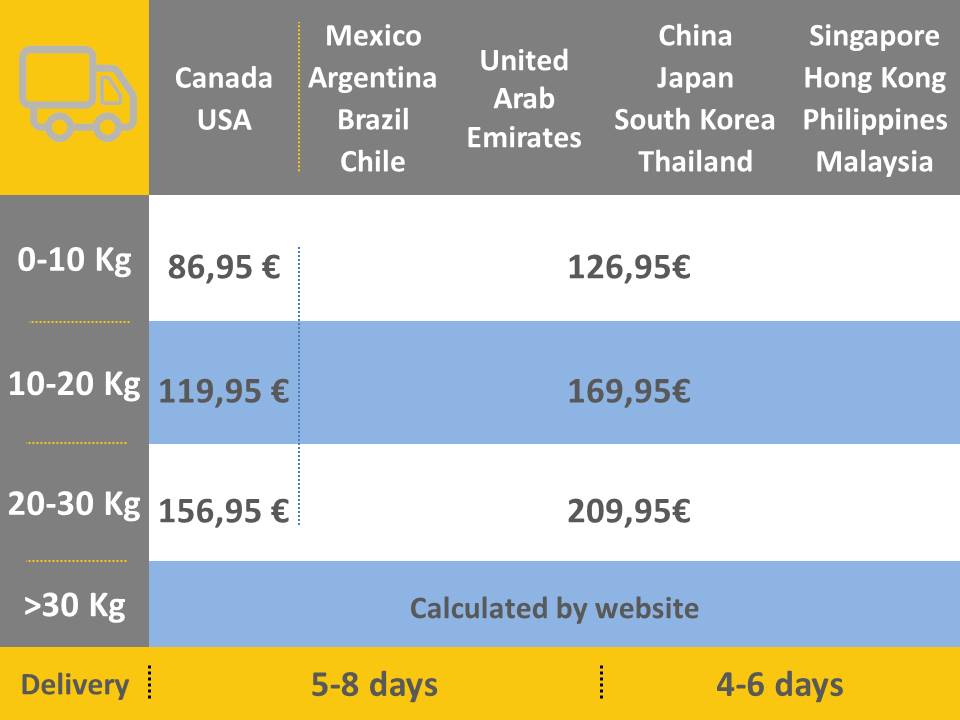 For more information about shipping to other international destinations, you can send a message to our contact form and we will answer in the shortest possible time.
Ingredients shipping:
Due to limitations in food exporting, the sections with ingredients for paella or paella kits with ingredients will only be automatically available for European customers.
For other customers there is a large amount of products on our website and to purchase them you can get in touch through the contact form to find out if we can send them, depending on the product and destination country. We will reply as soon as possible.
Delivery time
International delivery times vary between 3 and 8 business days, depending on the destination. 
If we receive your order before 12.00 pm (Monday to Friday) and we have all the items available, we will dispatch your order that same afternoon. 
In exceptional circumstances, we may not have a product in stock so delivery may take longer, though we will always inform you if this is the case.
There are some products that need to be ordered specially (large sized paella pans, natural gas paella stoves or stoves with special international connections), in which case the product specification shows when it will be available, to which we must add the delivery time depending on the destination.
During the month of August and the first fortnight of September for reasons of rest for our work staff, shipments will be made from Monday to Thursday, since on Fridays the warehouse will be closed, for this reason orders placed from Thursday at 2pm will be sent on Monday. On Thursday August 13 we will also be closed.
Order cancellation
At any moment before the order has been shipped, the customer can cancel the order without any additional fees.
Returns Policy
If the product is not to your satisfaction, you have 7 days (from receipt of the product) to return it. In order to do so, the product should be in its original packaging, untouched, and must not have been used. You will also need to keep your original invoice. Once we receive the product and confirm it, originalpaella promises to reimburse your money after deducting transport costs.
If the product is returned because of a factory defect, originalpaella will cover all relevant transportation costs, and will reimburse payment for the product or replace it with another in perfect condition.
In the case of special products that have to be especially ordered (large sized paella pans, industrial burners, etc.), we cannot accept returns, unless the product is faulty.
If your order had become faulty or damaged during transportation, please make a note of this on the courier's delivery note and inform us of the incident through our contact form within 24 hours.
In order to return the product, contact us and we will tell you what steps you need to follow to send it to us.
Taxes
All our products include VAT (Value Added Tax), provided it applies.
Any purchases made by those subject to VAT (companies, entities, organisations, etc.) resident in the European Union and holding an intra-community Tax ID number will be exempt from paying VAT, it being an indispensable condition to have already sent the intra-community Tax ID or ID number to originalpaella@originalpaella.com in order to confirm your registration in the register of intra-community transactions of your country. 
Suggestions
We work each day to improve and meet your needs. If you have any suggestions, improvements, comments or questions, or want to give new challenges you can send them to originalpaella@originalpaella.com. We look forward to receiving your message!