Carbon Steel Paella Pan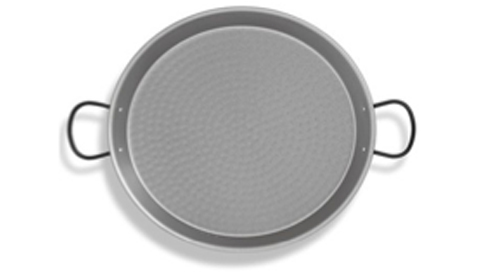 It is the one traditionally used to make Valencian paella.

Sturdy, endurable, inexpensive.

Suitable for Gas and open fire.

Made in Valencia (Spain)


The representative of the traditional paella pan, the carbon steel paella pan, also called iron paella pan, is forged from 100% steel and due to this it is capable of distributing heat quickly and evenly across its surface.
Its surface is slightly convex and has sloping sides, which allows the oil to accumulate in the center, helping during the preliminary stages of paella preparation, and allowing the sofrito to be moved to the sides as it cooks.
Before its first use, it is needed to remove a chemical layer or protective lacquer that prevents oxidation, for this, it is necessary to fill it with water and make it boil, after this, it must be washed with soap and water. This will eliminate the chemical layer and will also serve as a heat treatment to prevent future deformations.
It is prone to rust if it is not maintained after each use. To avoid this, you need to pour a layer of vegetable oil on its surface once it is clean and dry after washing.
Due to its lack of litter, food and rice tend to stick to its surface, it is recommended to use enough oil to alleviate this problem, for example, in a Valencian paella, between 25 and 30 milliliters of oil per person is recommended.
If you have doubts about which type of paella would be the most suitable for you, you can see our comparative video here.
If you are wondering what would be the right size for your paella pan, we provide you with a table with all the sizes and their possible portions on our blog.
Carbon steel require a bit of care after each use to prevent rusting. See the "Care Instruction" tab.
Read more