NEW PRODUCTS FOR PAELLAS 2022
You already know how much we the Original Paella team like to try new products and novelties in the world of paella making, the truth is that, no matter how traditional it is to make a paella, new accessories and gadgets can always be made to help us or make our life a little easier.
In this post we present several new products that we have been testing ourselves in recent weeks and that are already available in our store, the products that we will show you are:
MULTI-TASTE PAELLA
To tell the truth, the multitaste paella seemed to us like a very interesting invention, especially in certain situations, such as, for example, at home children prefer fideuà and adults want a seafood paella, what is the result of this dilemma? always fideuà, because I refuse to do double work.
With this paella we fulfill the wishes of all diners with just one paella pan, but there can certainly be many reasons that make having 2 types of paella in one an advantage. Logically, we must know the cooking times of each process, since, for example, rice takes longer to cook than noodles, so they cannot be cooked completely in parallel and finish at the same time. It is not easy if you do not have some experience and some foresight a little with in advance.
In our case, the truth is that the challenge was a success, especially considering that we went to the most difficult challenge (it is much easier to cook rice with rice). We should point out that it is a paella that, in order to withstand the welding of the partition, requires an extra thickness at its base, which makes the product more expensive, but this also gives it greater durability. We should also note that there are also three-flavor variants, in case two flavors were too little variety for your guests.
We show you below a preparation of a multitaste paella with fideua and seafood rice: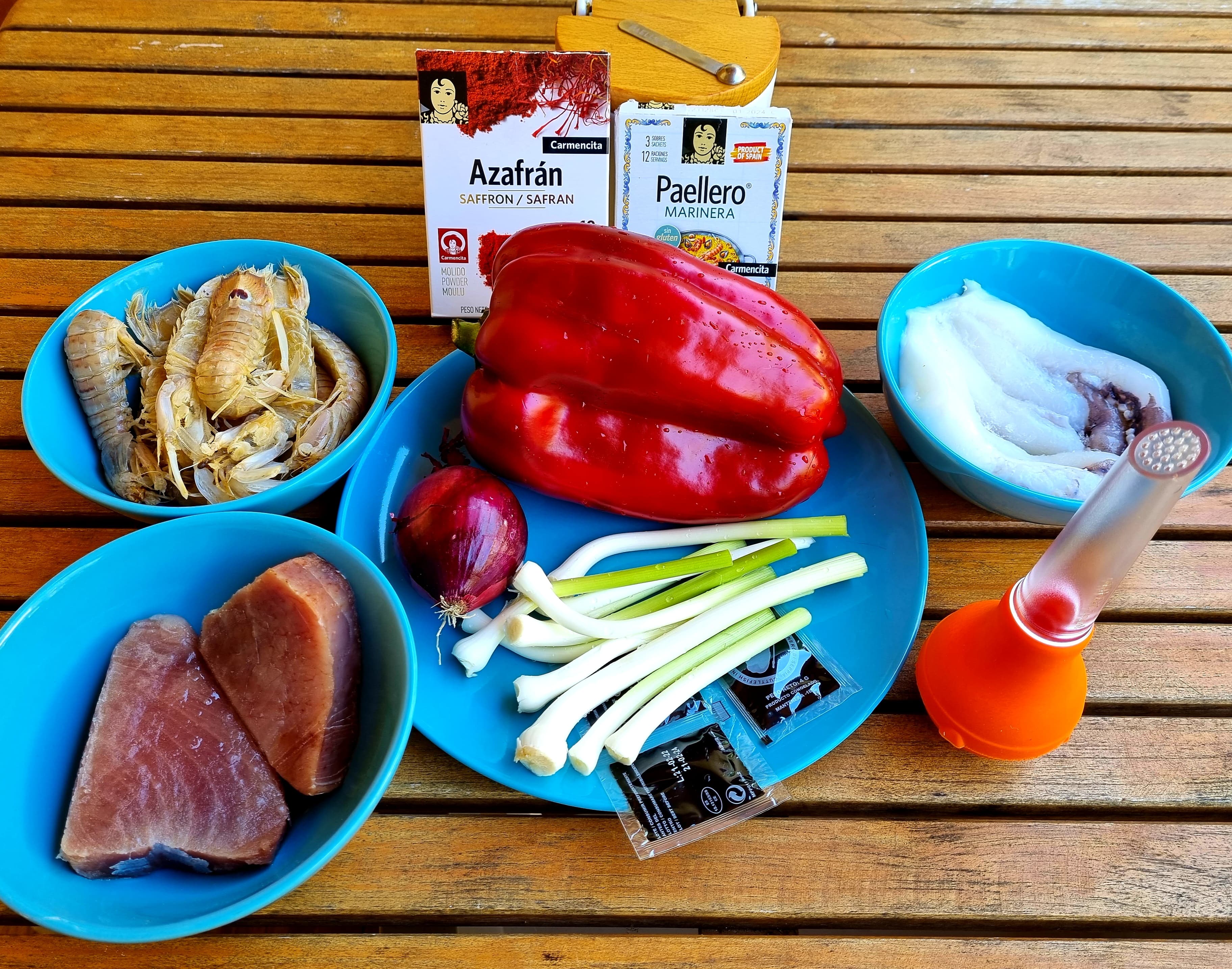 First of all, we need the necessary ingredients for the preparation of the paella.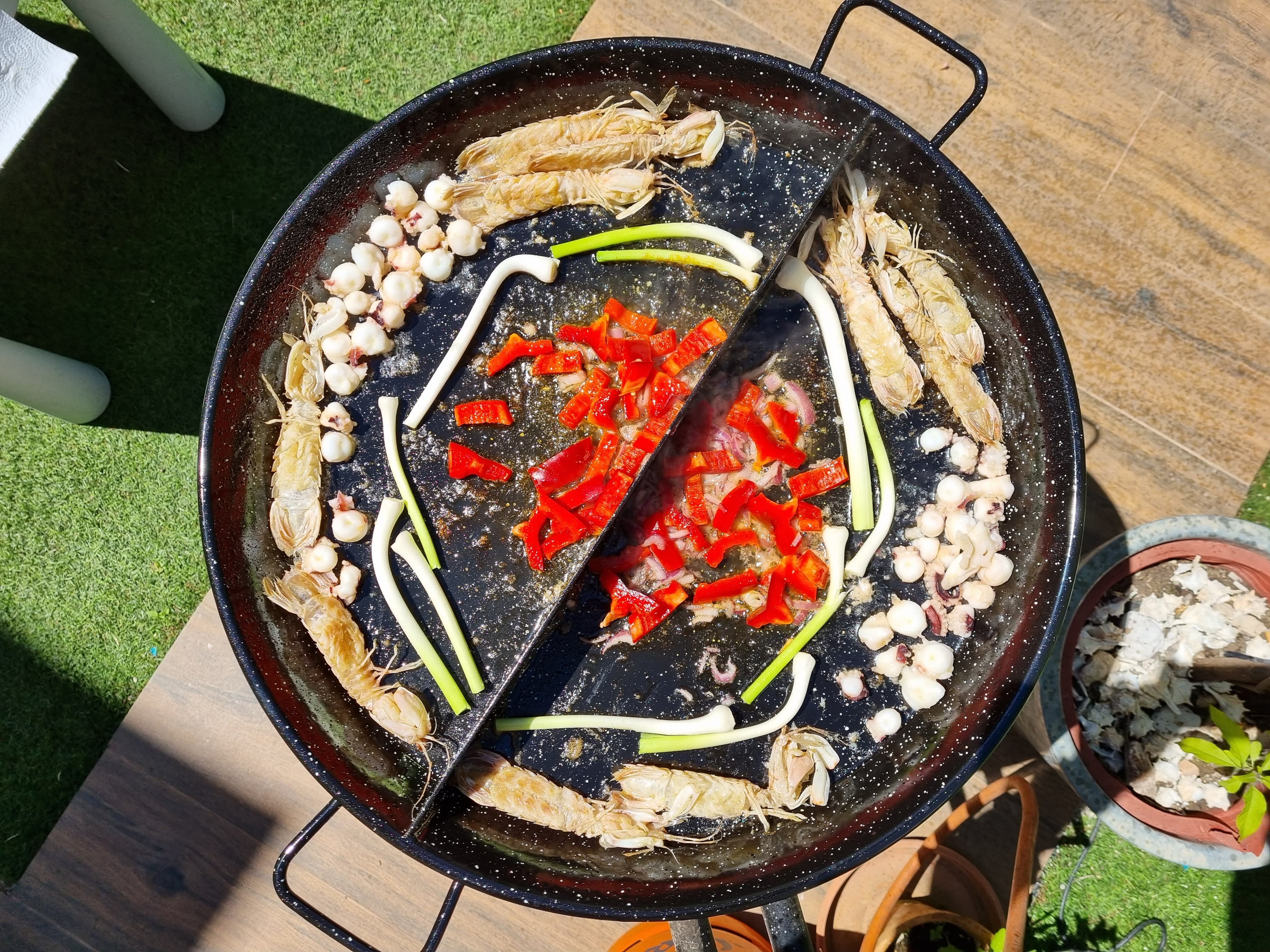 We put the ingredients in their respective parts.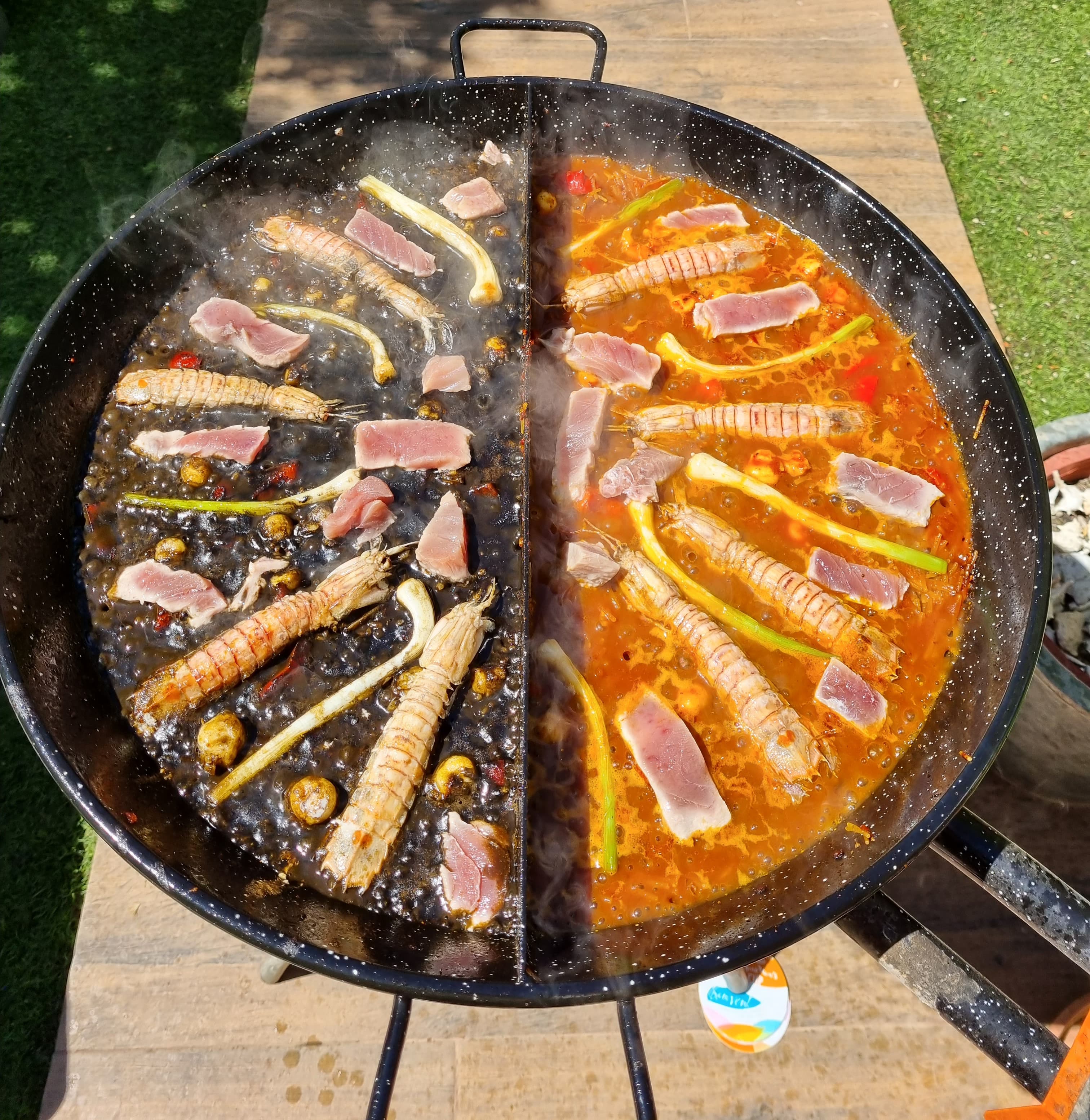 And we start making our multi-paella!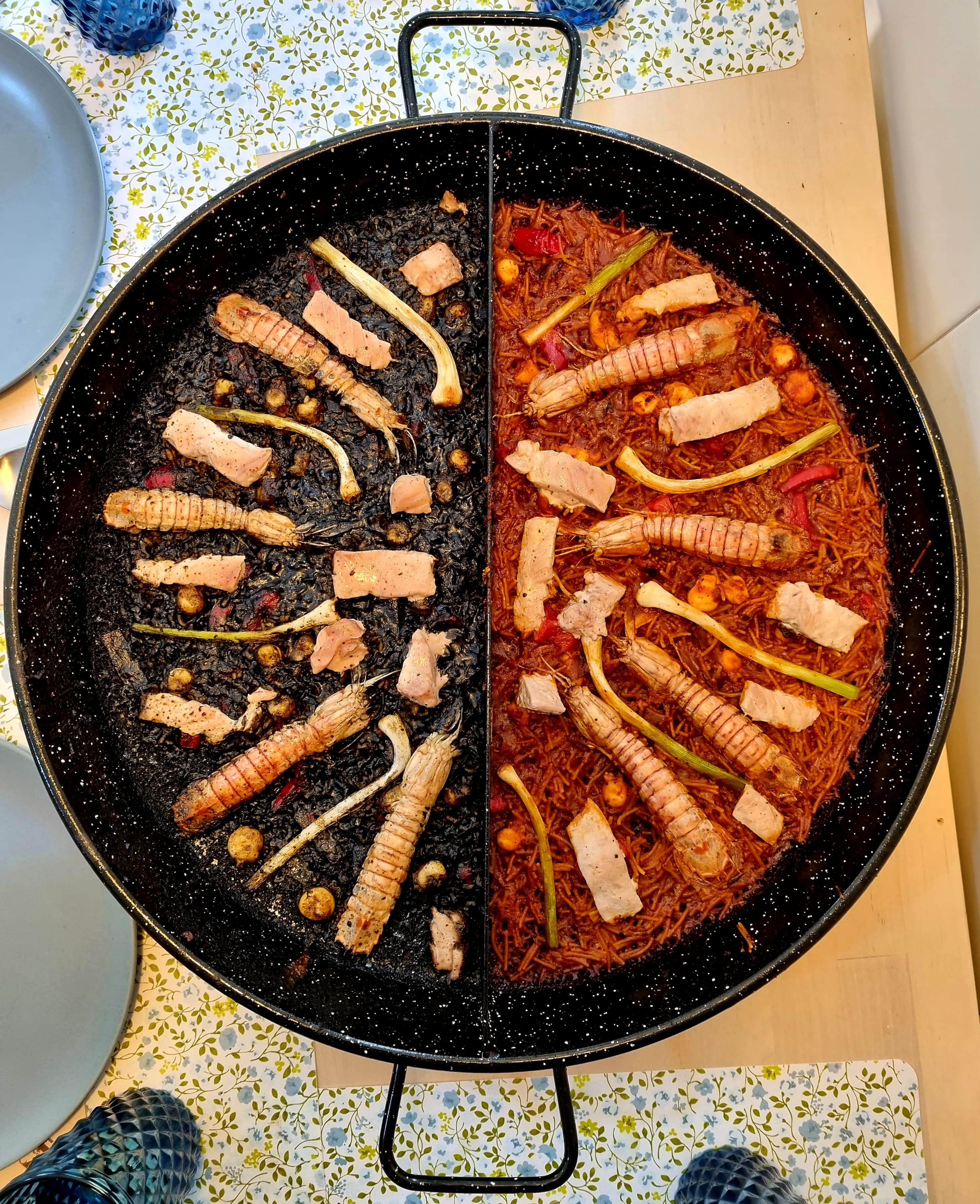 Ready to eat for all our guests, whether we want fideua or seafood rice.
THE PIPETTE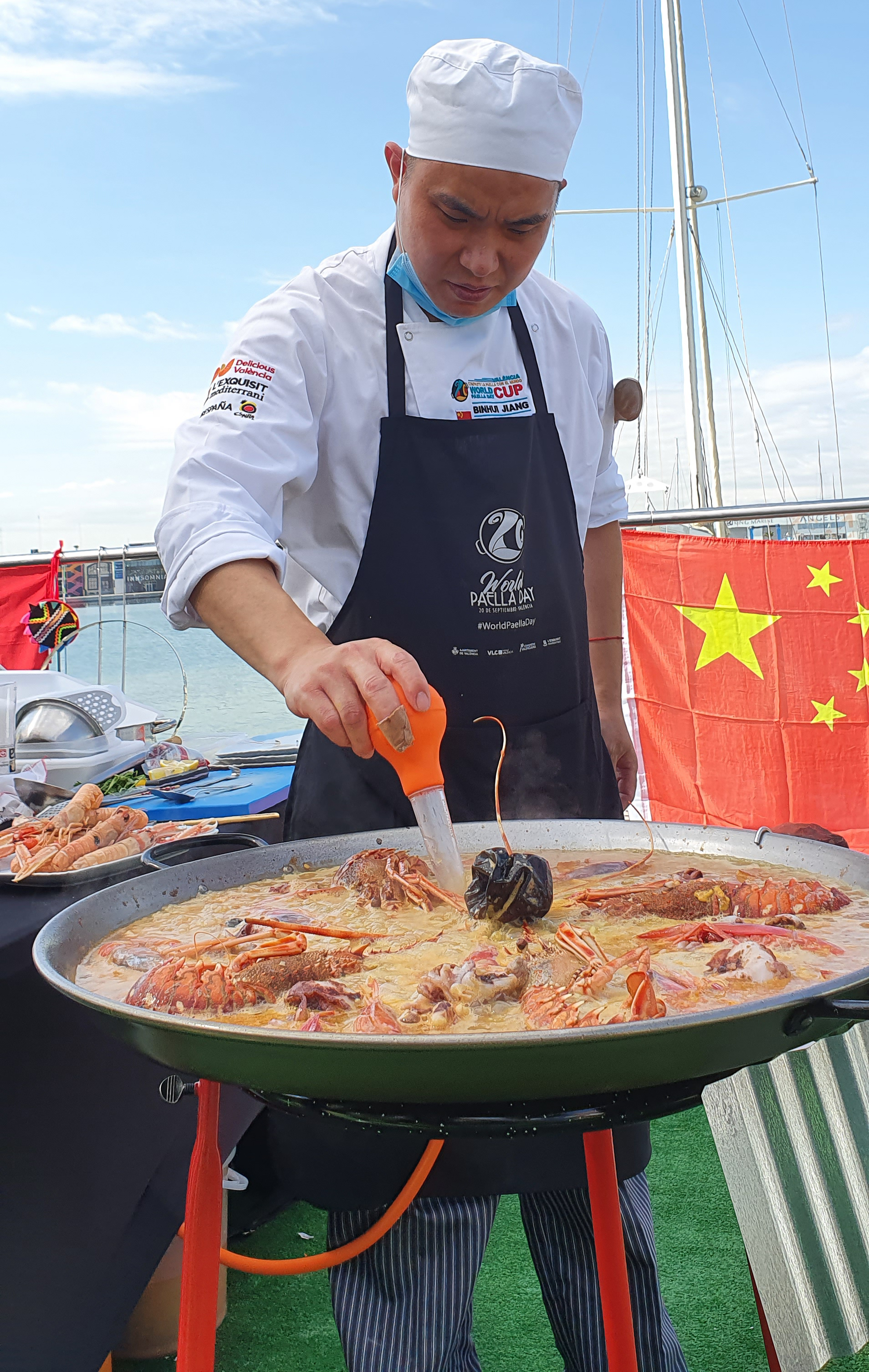 The pipette is a brilliant invention, I can personally attest to this, having been able to test it with many other great professionals in multiple contests, such as the worldpaelladay, we have been able to see uses for it that we had not even imagined, but it is very useful for removing excess broth and adjusting the amount to that rice that should appear in the 10th minute of cooking approximately. Also and especially in finite paellas, we have seen great uses of the pipette, although we also use it in our giant paellas, so as to transfer broth from parts where there is more broth to parts where it has dried more, this can happen to us for many different reasons (the leveling of the paella, that the paella is not bent due to its use, to the perfect distribution of the rice that does not allow us to see the broth, if there is wind the windward area will always lose a lot of heat efficiency, even if the sun hits us in one part and in another not…) so in practice, it is a super useful tool that allows us a perfect finish of our paellas.
THE MAGNET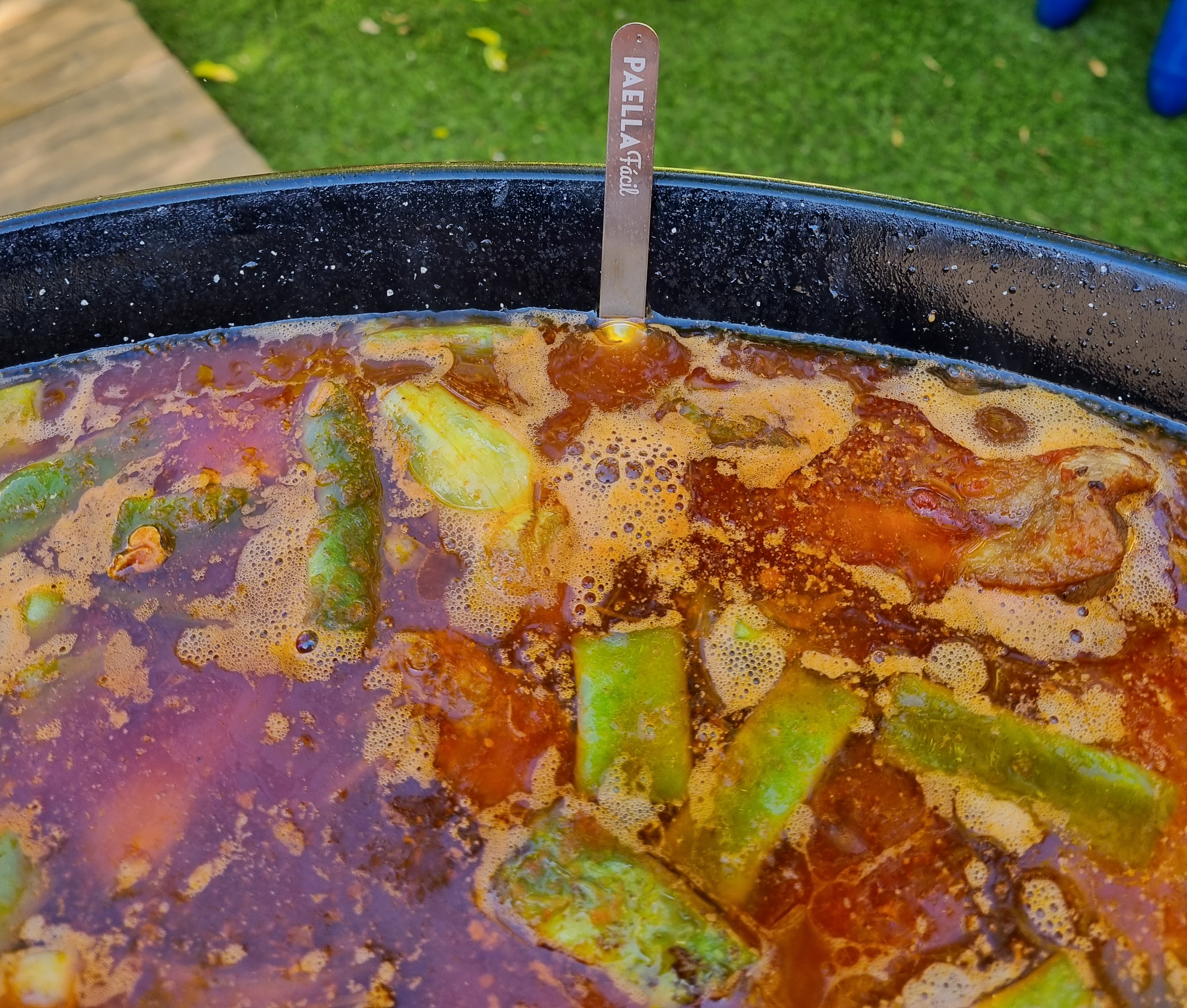 One of our best allies, this food magnet really improves and, above all, makes work more comfortable for those of us who cook Valencian paella with what has technically been called Q1 (rice absorption water) and Q2 (adds the water that is lost by evaporation during concentration of the broth). Traditionally, it has been done by measuring the height of the broth mark with the paddle (Q1) and then adding water (up to Q2) and waiting for it to return to the Q1 position, the ideal moment to add the rice to the paella.
Thus, with the magne,t we can mark the height of the absorption water (Q1), then we can fill with water until it covers the bulb of the magnet (Q2) and once it returns to the initial height (Q1) it will be time to throw the rice with the right and desired proportion, depending on the type of rice we want to cook.
It is true that we need practice until we get the point, but once it is controlled, we make the most difficult part of the paella come out on its own, so it is much easier, more comfortable and carefree for us to cook a paella with the rice at the desired point. This also facilitates the work of professionals, who usually have to control several paellas with different service times.
SAFE PAELLA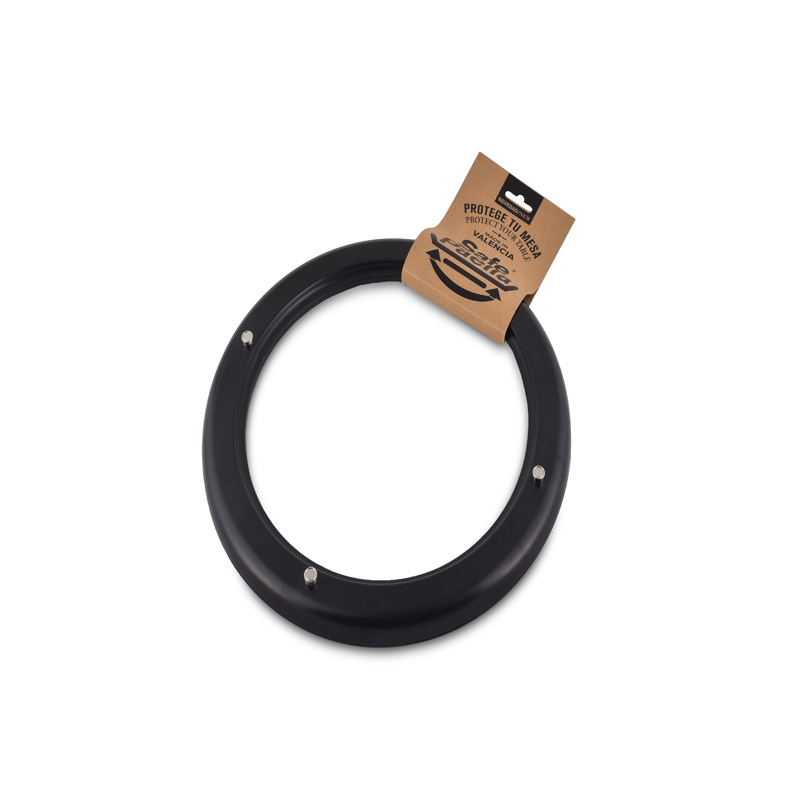 Also based on the use of magnets, this curious and practical contraption is a "mat" that allows you to leave the paella on any surface, avoiding burns and, above all, stains on the support surface.
This ring is equipped with 4 powerful magnets, so its placement is very fast and comfortable, you just need to bring the bottom of the paella pan closer and let its magnets do the rest, allowing it to be firmly fixed to the base of the paella pan, then, it only remains to support it on the table without the risk of causing burns or stains.
An image is worth a thousand words, so here we leave you a link to a short video demonstration of its use.
PAELLA HOLDER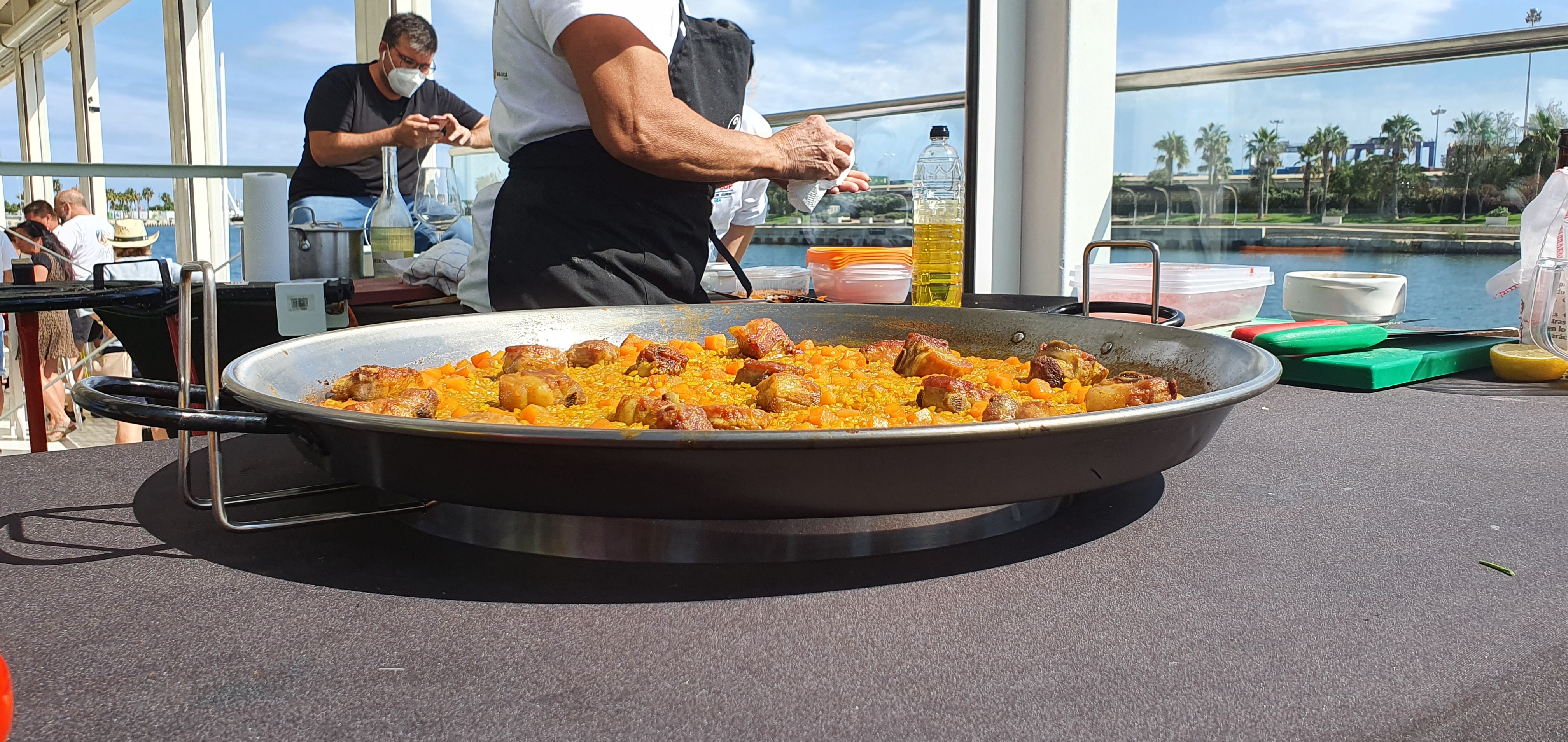 With a very refined design and finish, this accessory allows us to transport our freshly made paellas directly to our table in an elegant, comfortable and safe way. One of the advantages that it offers us is that it is very effective in preventing burns, since we will avoid touching the handles to transport it, thus avoiding accidental falls of our paellas, in addition, it also acts as a perfect trivet, since it prevents staining, overheat or even burn to the surface where we leave the paella.
Present in 2 versions, a professional stainless steel one and a cheaper one with a galvanized finish. The paella holder is designed in such a way that it is extendable, so, depending on the model, one can transport paella pans with a diameter from 26 cm to 70 cm. It is especially suitable for all those rice cookers who want to give a special touch to the service of their paellas at the table.
We hope that these new accessories will be as useful and comfortable to use to you as they have been for us, rice cookers.
If you want to see more content from our blog, follow this link.
Leave a Comment
Leave a Reply
Please
login
to post a comment.