High Giant Paella Pan
Giant Paella Pan
Handcrafted: we make them by hand, unit by unit

Made of Stainless steel 

Great thickness and strength: between 2 and 4mm according to measurements with reinforced rim

Wide experience: since 1916

Tailored to your needs: we manufacture the model and size you need without a limit of rations

If you are interested contact us

More info
Handcrafted in stainless steel. They have a reinforced rim and a double-thick bottom. They are sturdy and lifelong.
We manufacture the model and size you need without a limit of rations
It also has legs or trivets, with anti-caloric treatment, for the different sizes.
To check shipping costs please email us at  originalpaella@originalpaella.com. 
Sizes and rations: (choose your size in the drop-down of the product)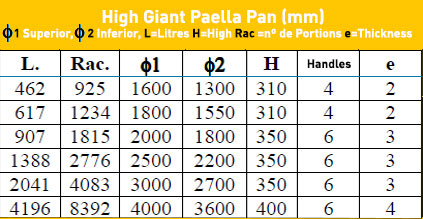 2 other products in the same category: